Mars 400SES SUSE Enterprise Storage Appliance
Mars 400SES
SUSE Enterprise Storage 6
Mars400SES SUSE Enterprise Storage Appliance consists of ARM microserver hardware, 3 years SUSE Enterprise Storage & SUSE Linux Enterprise Server subscription, together with UVS manager (a Ceph management GUI) with 3 years Ceph storage software support.
With Mars 400SES, Ambedded and SUSE provide an intelligent Software defined storage solution, integrated with decentralized ARM microserver platform, powered by Ceph technology, to enable IT users to transform their traditional enterprise storage into an software-defined infrastructure.
Offer SUSE Enterprise Storage with Smallest and Flexible Servers Numbers
To deploy a high availability SUSE Enterprise Storage Cluster, the minimum hardware requirement is to have 4x OSD nodes with 3x MON nodes independently, not counting the gateway servers nodes or Admin nodes, the basic requirement is to have 7 to 8 units of general x86 servers.
However, by using Mars 400 ARM based microserver platform, it provides a flexibility to deploy a high availability SUSE Enterprise Storage cluster with just 3 units of Mars 400 ARM servers, since each Mars 400 ARM server owns 8 independent Linux servers inside 1U chassis.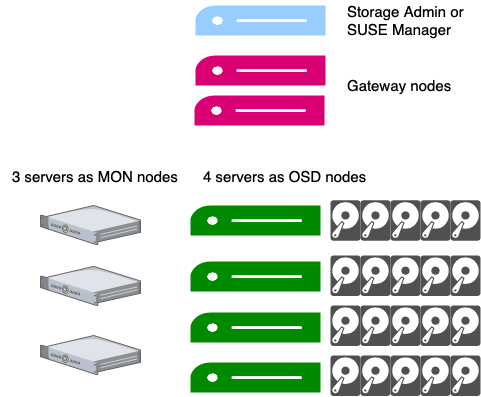 * It requires to have 7 to 8 units of general x86 servers to deploy a HA SUSE Enterprise Storage 6.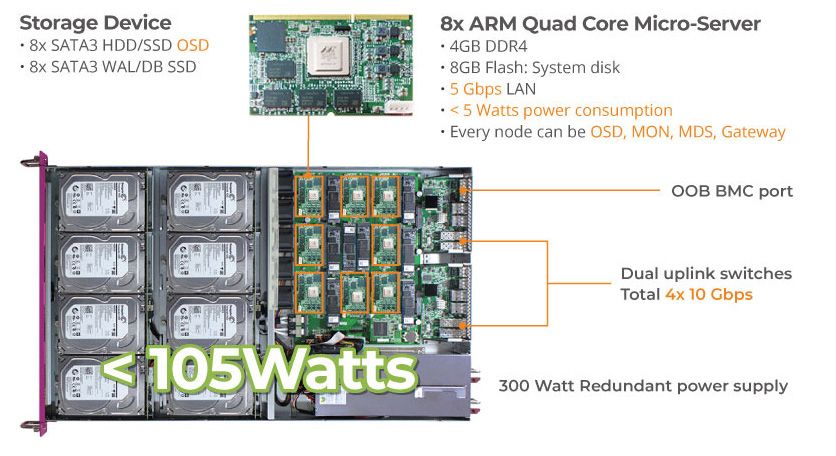 * In 1U Chassis it owns 8 independent Linux servers to be defined as MON or OSD or MDS or Gateway node, allow IT users to deploy a HA ceph cluster in a flexible configuration and minimize the hardware investment in the beginning.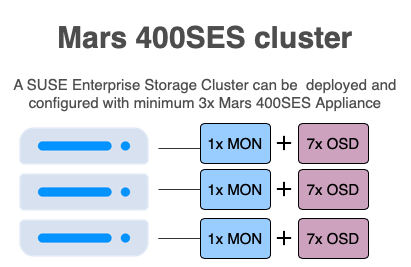 * Only require 3 units of Mars 400SES SUSE enterprise storage appliance to deploy a SUSE version ceph cluster with high availability, perfect for the end user who would like to experience SUSE Enterprise storage with limited budget.
Supported Protocol
Traditional Protocols
੦ iSCSI
੦ NFS
੦ CIFS/SMB
੦ S3
Native Protocols
੦ RBD (Block)
੦ RADOS (Object)
੦ CephFS (With multiple active MDS Servers)
੦ Swift
Key Features
Unlimited scalability.
Highly redundant storage based on Ceph.
A truly unified software-defined storage cluster that provides applications with object, block, and file system storage.
The complete package consists of Arm microserver hardware, 3 years SUSE Enterprise Storage, SUSE Linux Enterprise Server service subscription.
Starting cluster from 3x Mars 400SES appliance, offer the smallest SUSE enterprise storage cluster in the market.
Hardware is supported by Ambedded and partners; software support is provided by SUSE and Ambedded.
Self-healing capabilities.
Automated re-balancing optimized data placement.
Minimum storage failure domain.
Better performance with balancing workload.
Reducing 60% of server power consumption compared with other Ceph solution.
Running SUSE Enterprise Storage on Mars 400SES

Download

Details spec on SUSE Enterprise storage appliance

Download

How to use Mars 400 ceph appliance to support the storage protocols such as S3 (Objects), RBD, CephFS, ISCSI, NFS and SAMBA in different configurations.

Download
Ceph Storage Appliance
Mars 400 Ceph storage appliance HW & SW datasheet.
Download
Mars 400SES SUSE Enterprise Storage Appliance | Turnkey Ceph appliance provider | Ambedded
Located in Taiwan since 2013, Ambedded Technology Co., LTD. has been a block and object storage solutions provider. Their major data storage management include, Mars 400SES SUSE Enterprise Storage Appliance, Ceph storage technology, ARM server integration, Software-defined storage, Enterprise storage optimization, Ceph appliance cost savings, storage management software and block and object storage solutions. They provider professional Ceph support, scalable storage systems with high storage efficiency in the data center.
Ambedded offers cutting-edge Ceph storage solutions on ARM microservers, tailored for B2B buyers seeking to optimize their enterprise storage systems. Our turnkey Ceph appliances reduce total cost of ownership (TCO) and simplify storage management, supporting block, file system, and object storage in a unified platform. With a commitment to innovation and customer support, Ambedded is your trusted partner for scalable and efficient SUSE Enterprise Storage Appliance solutions. Experience seamless integration and professional support to leverage the full potential of Ceph technology in your business.
Ambedded has been providing customers with scalable storage systems and cost-effective Ceph storage management since 2013, and with both advanced technology and 20 years of experience, Ambedded ensures that each customer's needs are met.