Ceph Storage Appliance
Mars 400PRO
Unified Virtual Storage, UniVirStor (UVS)
UniVirStor is a ceph based software defined storage appliance. Ambedded Ceph storage appliance integrates the tuned Ceph software, Web UI, and Arm microserver.
You can get the benefits from this unified cloud-native storage technology with the least management effort. IT users can deploy a highly available Ceph cluster that includes OSD, MON, and MDS starting from just 2 units. Every ceph storage appliance offers 32 Arm v8 cores, 32 GB memory, 960GB SSD, 4x 10Gb network but consumes 100 Watts only.
UniVirStor, Ceph Storage Appliance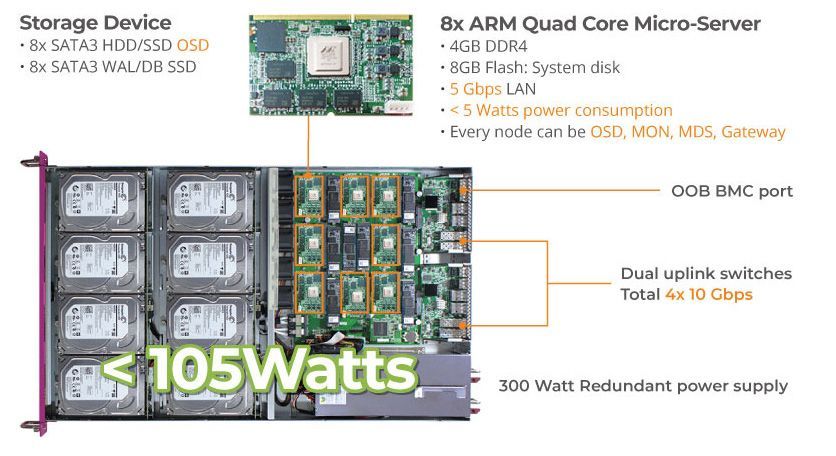 UniVirStor Mars400 Appliance Ceph Key Features & DataSheet
Arm server

1U rack mount accommodate 8x nodes Arm 64 server

Processor & Memory

Quad Core Arm A72 v8 servers per node. Total 32 CPU cores per 1U appliance. 4GB DDR4 per node. Total 32GB per appliance

Node Configuration

Every node can be configured as Ceph monitor, OSD, MDS, RGW or storage gateways

Network Uplink

4x 10Gbps Ethernet ports.

Power consumption

100 Watts at maximum load. (exclude data disks)

Storage protocol

Block storage, CephFS shared file system, S3/SWIFT object storage.

iSCSI, NFS, SMB, FTP, HTTP

Software

Pre-test and tuned Ceph software, Ubuntu LTS,

3 year free update. Optional extended 2 years.

Storage Device

8x 3.5"/2.5" top load SATA 6Gbps HDD/SSD

Pre-Installed 8x 120GB M.2 SATA SSD for Ceph OSD bluestore, Docker image and Monitor storage

Management

UniVerStor UVS manager web UI

Ceph command line interface

BMC via ethernet

Prometheus Ceph and node exporter

SNMP

Technical Support

3 years free Ceph technical support by remote access, conference call and email. Optional extended support by subscription.

Knowledge base customer portal accounts.
**Specifications are subject to change without prior notice
Mars 400 Ceph Storage Appliance Video

Building Scalable Enterprise Storage by using Ambedded Ceph storage appliance.

Introduction to Ceph storage, build up your basic idea on what is ceph and how different it is. A speech by Mohammad Ammar, the open source specialist @ Starline Computer.

The benefits to run Ceph storage on ARM-based Microserver comparing to traditional storage.

Mars 200 ceph storage appliance won the Best Choice Golden Award.

Discover the ARM-based microserver architecture for the Ceph storage.

Download

How to use Mars 400 ceph appliance to support the storage protocols such as S3 (Objects), RBD, CephFS, ISCSI, NFS and SAMBA in different configurations.

Download
Ceph Storage Appliance
Mars 400 Ceph storage appliance HW & SW datasheet.

Download
Ceph Storage Appliance | Ambedded
Located in Taiwan since 2013, Ambedded Technology Co., LTD. is a Ceph Storage Appliance | software-defined storage company that offers ARM based software defined storage appliances with 60% CapEX saving, 70% less power consumption and 100% scale out advantages.
For Software-defined storage designing and manufacturing, Ambedded team has broad experience to help customers to adopt the ceph solution into versatile industries, such as Telecom, medical, military, edge datacenter and HA required enterprise storage.
Ambedded has been offering customers Ceph storage solutions since 2013, both advanced technology and 20 years of experience, Ambedded ensures each customer's demands are met.