Ambedded releases the Ceph Management GUI UVS manager 2.14.17
We are glad to announce the release of UVS manager v2.14.17, v2.14.17 is our second release of the year 2020. UVS manager supports both community version Ceph on Mars 400PRO and SUSE Enterprise Storage version on Mars 400SES.
The highlight of this release is the implementation of RBD mirroring. Ceph supports the RBD mirroring since Ceph Jewel. With RBD Mirroring, users can quickly re-activate the storage service without waiting for the primary site recovers from a disaster.
---
23 Jun, 2020
Ambedded announces the release of UVS manager v2.14.17 for Ceph storage appliance.
Users can deploy rbd-mirroring to replicate their RBD images between two Ceph clusters. However, configuring RBD mirroring and manage mirror peers by commands may be overwhelming to the entry-level users. UVS RBD-mirroring features enable you to deploy the rbd-mirroring quickly, configure peers, view mirror status. It also supports you to promote and demote primary and secondary site during the failover and failback scenarios. You can find how to operate the RBD mirroring by using UVS manager in the end of this article.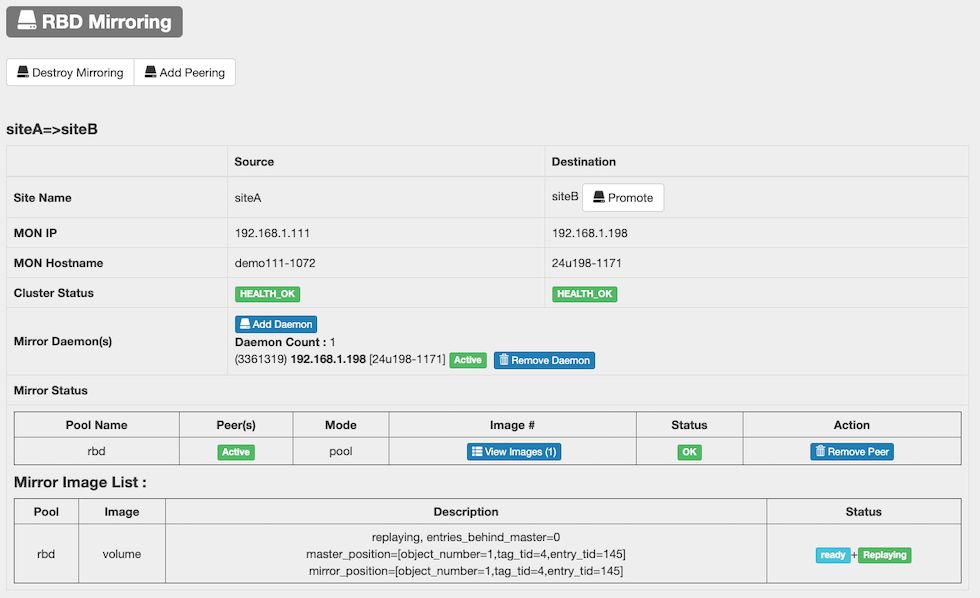 From this version, UVS supports updated UVS software sub-versions. Customers can upgrade new features or bugs fixed when they are generally available without waiting for the full version UVS release. In this release, we also update the Ceph version to Nautilus v14.2.9 to improve the stability.
Major Changes in v2.14.17
Upgrade Ceph from Nautilus 14.2.5 to 14.2.9. Some critical issues are fixed and listed as follows. Please refer to the Ceph Nautilus Release Notes.
Fix the ceph-mgr heartbeat issue

Fix a couple of security issues.

Improve the ceph-osd usage of memory.

Improve the stability of Cephfs.
UVS manager new features
RBD Mirroring
Add installation wizard.

Add/Del rbd-mirroring daemons.

Add/Del RBD Mirroring peers.

Support RBD Mirroring promotion & demotion.
Deployment
Users can change the timezone of the UVS Manager and push the timezone setting to all nodes.

Support subversion firmware update of UVS.

Cleanup OSD disk and swap while removing OSD.
RADOS Gateway
Enable Object Gateway function in the Ceph-MGR dashboard when the user creates an RGW service.
Ceph Cluster
Restrict the user to create a pool with a PG number power of 2.

Restrict the user to select the "rbd application" pool while creating RBD images.
Monitoring
UVS Prometheus and node, ceph exporter service.

Support the Cpeh-MGR Zabbix module.

UVS now collects output logs of the operations.
Other Enhancements
UVS mounts the M.2 SSD disk on the path /m2, and put more data into the SSD instead of the eMMC flash.

Show the Ceph-MGR status on the Dashboard and Node pages.

Add the "restart" button for the Ceph-MGR daemons for the case Ceph-MGR service stuck.

Use ETCD to sync the notification counts.

Limit resources to Ceph service with systemd.
Bugs Fixed
Firmware update function should avoid installing .upd files design for another distro.

Fail to move Ceph monitor data to M.2 SSD.

Tune the TCP behavior for improvement of Ceph slow requests & TCP read block issue.

Failed to activate ceph-mon after removing an unhealthy mon node.

Mars400 network has slow performance and holds lots of time_wait at monitor node.

Check the SSD alignment.

The function "Push RPM" can't push itself.

Fix updateetcd service logs a large unused message in the journal.

Fix sysusage, and cephusage services log unused error message.

Remove unused RPM packages.

Update firmware function fails when ms model time is inaccurate.

Extend the timeout period when upgrade.

Improve the compatibility of external RGW SSL.

The CephX user's name didn't match the real user's.

UVS Openstack feature didn't set the pool application.

Fix updateetcd service error.
Upgrade Guide for the upgrade from Version 2.14.16 to 2.14.17
Upgrade the UVS is simple. You just push the uploaded update file to selected nodes. You can select multiple nodes for one push update. UVS will do the rolling update one node at a time. There will be no downtime during the upgrade. But, please do follow the following procedure.
The steps to completely upgrade the software are
Upgrade the first monitor node by the firmware update feature of the UVS manager. The first monitor node is the node you are using UVS manager for the upgrade.

Upgrade the rest of the monitor

Upgrade the OSD nodes.

Upgrade MDS nodes if you have MDS nodes in use.

Check the UVS software versions.

Upgrade the external RADOS gateways.

Upgrade the external iSCSI gateways.

Update the cluster timezone.

Finally, please upgrade your ceph clients.
We have a video about the upgrade procedure at the end of this article.
Video

Related Products

Unified Virtual Storage (UVS) is a software package that integrates Linux operating system, Ceph distributed storage software, management console, and the web-based...

Details

Mars 400PRO

Mars 400 Ceph Appliance is designed to meet high capacity cloud-native data storage needs. It utilizes HDD to benefit from low cost per TB. Mars 400 provides...

Details

Mars 400SES

Mars400SES SUSE Enterprise Storage Appliance consists of ARM microserver hardware, 3 years SUSE Enterprise Storage & SUSE Linux Enterprise Server subscription,...

Details
Ceph Storage Appliance
Mars 400 Ceph storage appliance HW & SW datasheet.
Download
Ambedded releases the Ceph Management GUI UVS manager 2.14.17 | UVS Manager - Simplifying Ceph Deployment | Ambedded
Located in Taiwan since 2013, Ambedded Technology Co., LTD. has been a block and object storage solutions provider. Their major data storage management include, Ceph storage technology, ARM server integration, Software-defined storage, Enterprise storage optimization, Ceph appliance cost savings, storage management software and block and object storage solutions. They provider professional Ceph support, scalable storage systems with high storage efficiency in the data center.
Ambedded offers cutting-edge Ceph storage solutions on ARM microservers, tailored for B2B buyers seeking to optimize their enterprise storage systems. Our turnkey Ceph appliances reduce total cost of ownership (TCO) and simplify storage management, supporting block, file system, and object storage in a unified platform. With a commitment to innovation and customer support, Ambedded is your trusted partner for scalable and efficient SUSE Enterprise Storage Appliance solutions. Experience seamless integration and professional support to leverage the full potential of Ceph technology in your business.
Ambedded has been providing customers with scalable storage systems and cost-effective Ceph storage management since 2013, and with both advanced technology and 20 years of experience, Ambedded ensures that each customer's needs are met.