Ambedded releases the Ceph Management GUI UVS manager 2.14.17 / Ambedded fue fundada en 2013 con el talentoso equipo experimentado en ARM diseño y fabricación de dispositivos de almacenamiento definidos por software.
Nos complace anunciar el lanzamiento de UVS manager v2.14.17, v2.14.17 es nuestro segundo lanzamiento del año 2020. UVS manager admite ambas versiones de la comunidad Ceph en Mars 400PRO y SUSE Enterprise Storage versión en Mars 400SES. Lo más destacado de esta versión es la implementación de la duplicación RBD. Ceph admite la duplicación RBD ya que CephJoya. Con RBD Mirroring, los usuarios pueden reactivar rápidamente el servicio de almacenamiento sin esperar a que el sitio principal se recupere de un desastre. Ambedded ofertas Ceph storage solución al mercado, incluyendo Ceph storage Appliance en ARM microservidores y SUSE Enterprise Storage Aparato encendido ARMmicroservidores. Además de Ceph solución, Ambedded también ofrece integral Ceph soporte de software al cliente, para ayudar a los usuarios inexpertos a adoptar esta nueva tecnología sin vacilaciones.
Ambedded releases the Ceph Management GUI UVS manager 2.14.17
23 Jun, 2020
Ambedded announces the release of
UVS manager v2.14.17 for
Ceph storage appliance.
We are glad to announce the release of
UVS manager v2.14.17, v2.14.17 is our second release of the year 2020.
UVS manager supports both community version
Ceph on
Mars 400PRO and
SUSE Enterprise Storage version on
Mars 400SES.

The highlight of this release is the implementation of RBD mirroring.
Ceph supports the RBD mirroring since
Ceph Jewel. With RBD Mirroring, users can quickly re-activate the storage service without waiting for the primary site recovers from a disaster.
Users can deploy rbd-mirroring to replicate their RBD images between two
Ceph clusters. However, configuring RBD mirroring and manage mirror peers by commands may be overwhelming to the entry-level users. UVS RBD-mirroring features enable you to deploy the rbd-mirroring quickly, configure peers, view mirror status. It also supports you to promote and demote primary and secondary site during the failover and failback scenarios. You can find how to operate the RBD mirroring by using
UVS manager in the end of this article.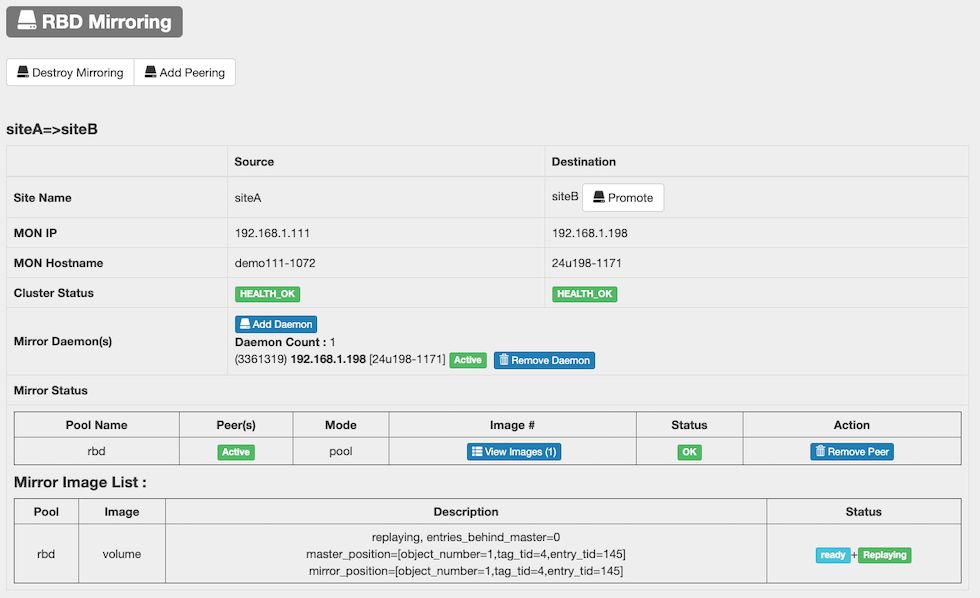 From this version, UVS supports updated UVS software sub-versions. Customers can upgrade new features or bugs fixed when they are generally available without waiting for the full version UVS release. In this release, we also update the Ceph version to Nautilus v14.2.9 to improve the stability.
Major Changes in v2.14.17
Upgrade Ceph from Nautilus 14.2.5 to 14.2.9. Some critical issues are fixed and listed as follows. Please refer to the Ceph Nautilus Release Notes.
Fix the ceph-mgr heartbeat issue

Fix a couple of security issues.

Improve the ceph-osd usage of memory.

Improve the stability of Cephfs.
UVS manager new features
RBD Mirroring
Add installation wizard.

Add/Del rbd-mirroring daemons.

Add/Del RBD Mirroring peers.

Support RBD Mirroring promotion & demotion.
Deployment
Users can change the timezone of the UVS Manager and push the timezone setting to all nodes.

Support subversion firmware update of UVS.

Cleanup OSD disk and swap while removing OSD.
RADOS Gateway
Enable Object Gateway function in the Ceph-MGR dashboard when the user creates an RGW service.
Ceph Cluster
Restrict the user to create a pool with a PG number power of 2.

Restrict the user to select the "rbd application" pool while creating RBD images.
Monitoring
UVS Prometheus and node, ceph exporter service.

Support the Cpeh-MGR Zabbix module.

UVS now collects output logs of the operations.
Other Enhancements
UVS mounts the M.2 SSD disk on the path /m2, and put more data into the SSD instead of the eMMC flash.

Show the Ceph-MGR status on the Dashboard and Node pages.

Add the "restart" button for the Ceph-MGR daemons for the case Ceph-MGR service stuck.

Use ETCD to sync the notification counts.

Limit resources to Ceph service with systemd.
 Bugs Fixed
Firmware update function should avoid installing .upd files design for another distro.

Fail to move Ceph monitor data to M.2 SSD.

Tune the TCP behavior for improvement of Ceph slow requests & TCP read block issue.

Failed to activate ceph-mon after removing an unhealthy mon node.

Mars400 network has slow performance and holds lots of time_wait at monitor node.

Check the SSD alignment.

The function "Push RPM" can't push itself.

Fix updateetcd service logs a large unused message in the journal.

Fix sysusage, and cephusage services log unused error message.

Remove unused RPM packages.

Update firmware function fails when ms model time is inaccurate.

Extend the timeout period when upgrade.

Improve the compatibility of external RGW SSL.

The CephX user's name didn't match the real user's.

UVS Openstack feature didn't set the pool application.

Fix updateetcd service error.
Upgrade Guide for the upgrade from Version 2.14.16 to 2.14.17
Upgrade the UVS is simple. You just push the uploaded update file to selected nodes. You can select multiple nodes for one push update. UVS will do the rolling update one node at a time. There will be no downtime during the upgrade. But, please do follow the following procedure. 
The steps to completely upgrade the software are
Upgrade the first monitor node by the firmware update feature of the UVS manager. The first monitor node is the node you are using UVS manager for the upgrade.

Upgrade the rest of the monitor 

Upgrade the OSD nodes.

Upgrade MDS nodes if you have MDS nodes in use.

Check the UVS software versions.

Upgrade the external RADOS gateways.

Upgrade the external iSCSI gateways.

Update the cluster timezone.

Finally, please upgrade your ceph clients.
We have a video about the upgrade procedure at the end of this article.
Video

How to operate the RBD mirroring by using Ambedded Ceph management GUI, the UVS manager

Upgrade Guide for the upgrade from Version 2.14.16 to 2.14.17

Productos relacionados

El almacenamiento virtual unificado (UVS) es un paquete de software que integra el sistema operativo Linux, Ceph software de almacenamiento distribuido,...

Detalles

Mars 400

Mars 400 Ceph Storage Appliancees una solución de almacenamiento definida por software llave en mano para empresas y centros de datos. El aparato...

Detalles

Mars 400SES

Mars400SES SUSE Enterprise Storage El aparato consta de ARM microserver hardware, 3 años SUSE Enterprise Storage Y SUSE Suscripción...

Detalles
Mars 400 Mars 400SES Ficha de datos
Ceph aparato y
SUSE Enterprise storage ficha de datos

Descargar
Ceph Storage Diseño y Fabricación de Soluciones | Ambedded
Ubicado en Taiwán, Ambedded Technology Co., LTD. es un Ceph storage proveedor de soluciones que ofrece ARM dispositivos de almacenamiento definidos por software con un 60% de ahorro de CapEX, un 70% menos de consumo de energía y un 100% de ventajas de escalamiento horizontal.
Para el diseño y la fabricación de almacenamiento definido por software, Ambedded El equipo tiene una amplia experiencia para ayudar a los clientes a adoptar el ceph solución en industrias versátiles, como telecomunicaciones, médica, militar, centro de datos de borde y almacenamiento empresarial requerido de alta disponibilidad.
Ambedded ha estado ofreciendo a los clientes Ceph storage soluciones desde 2013, tanto tecnología avanzada como 20 años de experiencia, Ambedded asegura que se cumplan las demandas de cada cliente.