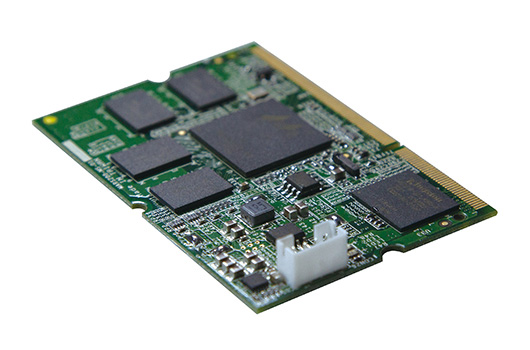 Ambedded Launched Mars 400 Ceph Storage Appliance powering by ARM Microserver
Ambedded again revolutionizes Ceph storage market with Mars 400 Ceph Storage Appliance and UVS 2.0

Ambedded Technology today announced the general availability of its Mars 400, the latest Ceph software defined storage appliance, and Unified Virtual Storage (UVS) manager version 2.0, its web-based user interface. With the release of these 2 new products, Ambedded has again revolutionized the Ceph storage market, extending its market-leading economics with double the performance of the Mars 200, extending its applicability into high-performance use cases.
---
16 May, 2018
Mars 400 Ceph Storage Appliance launch
UVS 2.0 simplifies and reduces the time to configure and manage Ceph clusters. Furthermore, it eliminates human error in provisioning. The Mars 400 appliance is a scalable high-performance storage solution for mid- and large-scale enterprises and data centers. Its ease of management, no single point of failure, and low 105-Watt power consumption provide huge total cost of ownership (TCO) savings.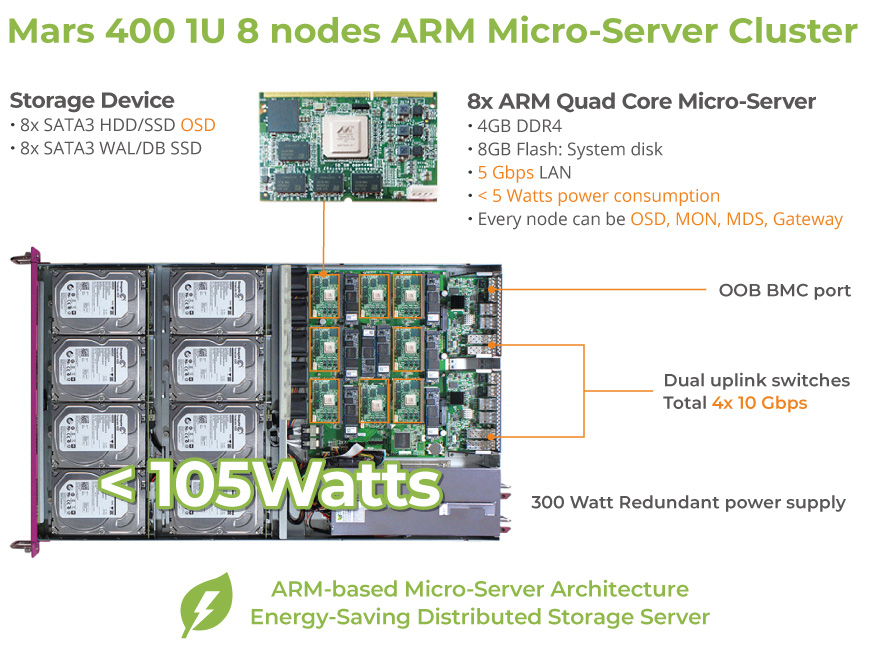 Mars 400's server platform accommodates 8x 64-bit Quad-Core ARM Cortex-A72 servers in a one rack-unit (1RU) chassis. Two in-chassis redundant switches provide 4x10 Gbps uplink for horizontal scale out and client access. It eliminates network - storage device bottlenecks by pairing a single server node with a single storage device.
Every ARM server node provides dedicated CPU, memory, storage and network interface resources to its supported object storage device (OSD). As a result, OSD performance is far more balanced than traditional single-server node designs supporting many OSDs.
Further, Mars 400's architecture provides greater accessibility due to its lack of a single point of failure. Also, by limiting the failure domain to a single disk, the Mars 400 exhibits faster recovery from microserver failures. The powerful 64-bit ARM Cortex A72 server enables Mars 400 to provide much higher bandwidth and IOPS compared to its companion product Cortex-A9 based Mars 200. Mars 400 integrates the ARM MicroServer, Ceph, and the UVS web-based user interface as a distributed Software Defined Storage turnkey solution. Ceph open source software defined storage platform implements object storage on a distributed computer cluster, and provides interfaces for object-, block- and file-level storage. However, managing and tuning Ceph to achieve outstanding performance and reliability challenge IT administrators unfamiliar with Ceph.
Ambedded's Unified Virtual Storage (UVS) manager 2.0 is a web-based user interface that administrators use to simplify deploying, managing and monitoring Mars 400. UVS 2.0 supports the pre-installed tuned Ceph Luminous 12.2.x distribution. UVS 2.0 automates the process of provisioning Ceph as object-, block- and file-level SDS with a straightforward graphical display. UVS 2.0 includes a dashboard, cluster deployment & scaling, OSD & MON node management, object storage pool management, block image, file system support, replication/erasure coding data protection, CRUSH map configuration, in-line compression, S3/SWIFT object storage gateway and user management, multi-site active-active Disaster Recovery configuration, client user capability & keyring management, OpenStack backend storage pool management, iSCSI gateway/LUN management and much more. UVS 2.0 supports simple software upgrades without disturbing normal operations.
Ambedded will present Mars 400 at the upcoming OpenStack Summit Vancouver, Computex Taipei, and ISC18 Frankfurt events.
Related Technolgy

Ambedded ARM microserver platform, measuring 4.4 x 6.6 cm, it is the smallest network server, fully equipped to manage the storage while directly connected...

You can use Ceph to build a server cluster for storing data in high availability. Data replications or erasure code chunks are distributively stored in devices...

Related Products

Mars 400PRO

UniVirStor is a ceph based software defined storage appliance. Ambedded Ceph storage appliance integrates the tuned Ceph software, Web UI, and Arm microserver....

Details
Ceph Storage Appliance
Mars 400 Ceph storage appliance HW & SW datasheet.

Download
Ambedded - A professional Ceph storage solution to the market.
Located in Taiwan since 2013, Ambedded Technology Co., LTD. is a Ceph storage solution provider that offers ARM based software defined storage appliances with 60% CapEX saving, 70% less power consumption and 100% scale out advantages.
For Software-defined storage designing and manufacturing, Ambedded team has broad experience to help customers to adopt the ceph solution into versatile industries, such as Telecom, medical, military, edge datacenter and HA required enterprise storage.
Ambedded has been offering customers Ceph storage solutions since 2013, both advanced technology and 20 years of experience, Ambedded ensures each customer's demands are met.