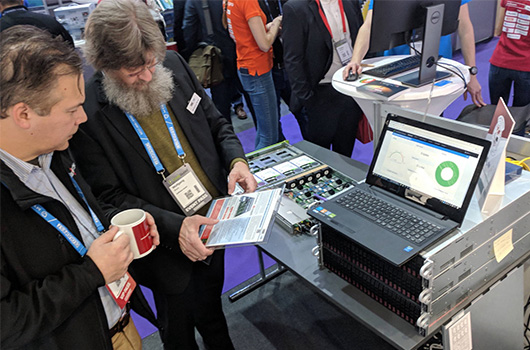 AMBEDDED 2018 H1 EVENT Around the World
Welcome to visit our 3 events in Asia & Europe during Ambedded Week 2018.
March 10 - 16 is Ambedded week. Ambedded and our Europe & Thailand partners will be presenting Ceph Appliance in 3 events.
---
13 Mar, 2018
CloudFest 2018, Data & Cloud EXPO Brussel 2018, SIS Solution Showcase 2018
Ambedded Mars 200 is a scalable software-defined storage appliance integrated with Ceph, decentralized Arm server cluster and easy to use web-based management user interface. Thanks to it's no single point of failure server. The smallest failure domain storage solution provides high availability SDS on both hardware and software.
The tuned Ceph on Mars 200 provides better throughput/IOPS than Ceph on the same cost x86 servers. The web-based user interface Unified Virtual Storage Manager (UVS) enables you to manage your Ceph storage without learning the Ceph from the beginning. The appliance consumes only 1/3 of energy compare with x86 servers.
Besides the Ceph appliance, Ambedded also provides solutions to save your time on integrating the SDS with applications on OpenStack, S3 cloud storage, big data, edge data center, Docker Container persistent storage, Disaster Recovery, etc.
Welcome to visit our events & see how we can solve your storage issues and save your total cost of ownership.
March 12-16: CloudFest, Europa-park Germany by Starline & EuroStor
March 13: SiS Solution Showcase, Thailand by SiS Distribution.
March 14 & 15: Data & Cloud Expo, Brussel Belgium by Ambedded.
Photo Sets
Ceph Storage Appliance
Mars 400 Ceph storage appliance HW & SW datasheet.

Download
Ambedded - A professional Ceph storage solution to the market.
Located in Taiwan since 2013, Ambedded Technology Co., LTD. is a Ceph storage solution provider that offers ARM based software defined storage appliances with 60% CapEX saving, 70% less power consumption and 100% scale out advantages.
For Software-defined storage designing and manufacturing, Ambedded team has broad experience to help customers to adopt the ceph solution into versatile industries, such as Telecom, medical, military, edge datacenter and HA required enterprise storage.
Ambedded has been offering customers Ceph storage solutions since 2013, both advanced technology and 20 years of experience, Ambedded ensures each customer's demands are met.