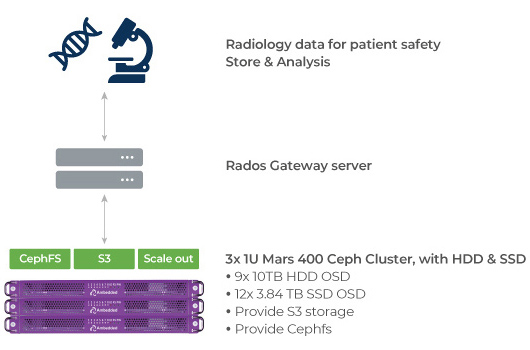 Gunakan Cephfs dan S3 untuk Aplikasi Medis
Pelanggan UK Medical ingin memfasilitasi berbagi data mereka tanpa bergantung pada layanan cloud publik. Karena sensitivitas data, layanan cloud publik biasanya tidak perlu dipertimbangkan dalam industri perawatan kesehatan.
 
Sistem penyimpanan harus sangat tersedia dan hemat biaya. Ini juga akan menjadi penyimpanan cloud yang sangat aman dan dapat dibagikan untuk berbagi data antara peneliti medis dan ilmuwan. Mereka memilih sistem file Ceph dan penyimpanan objek yang kompatibel dengan S3 untuk memenuhi persyaratan ini.
---
Pemeriksaan radiologi diagnostik, ultrasound, dan pemindaian MRI menghasilkan sejumlah besar data dengan cepat. Penyimpanan NAS tradisional tidak dapat memenuhi pertumbuhan aplikasi data medis. Mengelola beberapa sistem NAS dan memigrasikan data membutuhkan biaya yang mahal. Tugas-tugas ini mengurangi banyak produktivitas layanan.
 
Menggunakan sistem file Ceph di tempat dan penyimpanan cloud S3 memungkinkan peneliti berbagi biodata dengan aman tanpa masalah keamanan. Keamanan data memudahkan alur kerja staf medis dan penelitian, sehingga mereka dapat lebih berkonsentrasi pada pekerjaan mereka.
Berikut adalah contoh penggunaan Ceph pada layanan big data Radiologi.
Pelanggan mulai dengan cluster Mars 400 Ceph utama dengan tiga peralatan Mars 400. Cluster ini memiliki OSD SSD dan HDD OSD campuran dengan total HDD 100TB & kapasitas mentah SSD 50 TB.
Mereka menggunakan Cephfs untuk berbagi file staf internal dan RGW over ceph untuk menyediakan penyimpanan cloud S3 di lokasi.
 
Alat penyimpanan Mars 400 Ceph yang didukung oleh perangkat keras server mikro ARM telah diuji dan dioptimalkan untuk Ceph dan SUSE Enterprise Storage. Solusi alat untuk Ceph mengurangi risiko dan mempercepat penerapan di penyimpanan ceph.
 
Pelanggan dapat dengan cepat memulai klaster Ceph hanya dengan tiga peralatan 1U, dan meningkatkan kapasitas dan kinerja sesuai permintaan.
Dengan alat Mars 400 ceph dan penyimpanan perusahaan Mars 400 SUSE, Pelanggan dapat dengan cepat membangun cluster ceph tanpa menghabiskan uang mereka.
Related Products

Mars 400PRO

UniVirStor is a ceph based software defined storage appliance. Ambedded Ceph storage appliance integrates the tuned Ceph software, Web UI, and Arm microserver. You...

rincian

Related Technology

Ceph Object Storage is an object storage interface built on top of librados and provides a RESTful gateway for applications to the Ceph Storage Cluster....

The Ceph File System (CephFS) is a POSIX-compliant file system built on top of Ceph's distributed object store, RADOS. CephFS provides a state-of-the-art,...