Ceph Management Web User Interface (UVS Manager)
UVS Manager, Unified Virtual Storage Manager
Unified Virtual Storage (UVS) is a software package that integrates Linux operating system, Ceph distributed storage software, management console, and the web-based user interface(UVS manager) for Ambedded Ceph appliance Mars.
The UVS manager automates the most commonly used Ceph management functions. With the UVS manager, we shorten your learning curve for deploying and operating the Ceph cluster.
The UniVirStor Ceph Management
Ambedded provides users with a turn-key solution for Ceph applications. The UniVerStor (UVS) package pre-installs all software components required to run ceph on the Ambedded Mars server platforms. The major software components are Linux operating system, Ceph software, and UVS Manager. 
Users can use both Ceph command-line interface and UVS Manager to manage the Ceph Storage. However, managing Ceph by command line is sophisticated and may cause human mistakes.  Ambedded UVS manager automates most of the commonly used processes. The UVS management software enables users to deploy, manage, update and monitor a Ceph cluster quickly and easily.
Performance & Stability Tuning
Making the Ceph and Linux work stably with better performance on the server requires professional tuning on Ceph and Linux configurations. Ambedded Ceph appliances are carefully tuned with ARM microservers to ensure that they perform stably and well.
Preinstall the software packages required to deploy a stable Ceph cluster quickly.
Parallel network configuration saves time for deployment.
Users can visually define the CRUSH map according to the infrastructure hierarchy by creating buckets, renaming bucket types, moving buckets, and defining CRUSH rules.
Create or configure the NTP server and push configurations to hots for cluster time synchronization.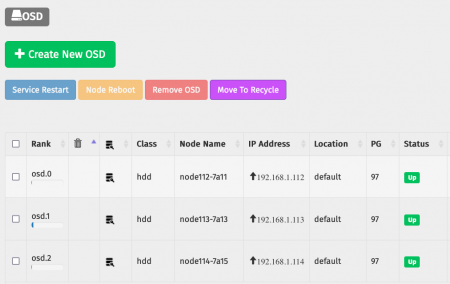 Ceph OSD and Monitor
Monitor:

create, SSD drive SMART, snd status

OSD:

create,

encryption

, service restart, trash, and delete, drive SMART and status

Locating data drive and bluestore SSD location in chassis by flashing LEDs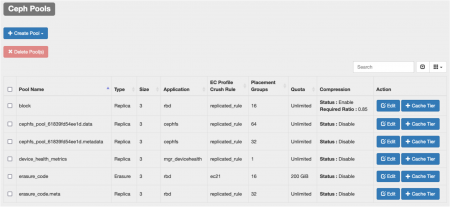 Pools
Creating

replica and erasure code

pools.

Editing an existing pool

Pool data

compression

Adding a fast

cache tier

on top of a slow pool

Pool

mirroring

status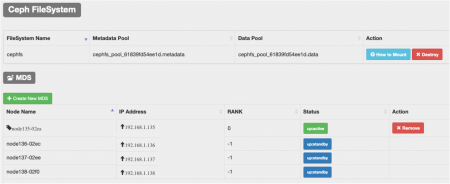 Storage Services
Manage

RBD images

, Snapshot, clone & flatten, Mirroring.

RBD Mirroring

: Asyncronize RBD images to another Ceph cluster 

Managing

CephFS

. Create / Delete

MDS

. 

Managing

MDS

failover and failback

Deploying RGW for

S3

and

SWIFT object storage

Configuring and setting up

Multi-Site

for object storage

Creating object storage

user secret keys

Deploy

iSCSI gateways

with multi-path support

Creating and managing

iSCSI LUNs

Deploy

NFS and SMB

on gateways

View OSD and pool

usage
Dashboard

monitors cluster and daemon health in real-time.

Prometheus

Ceph and Node exporter control and configuration

Email

notification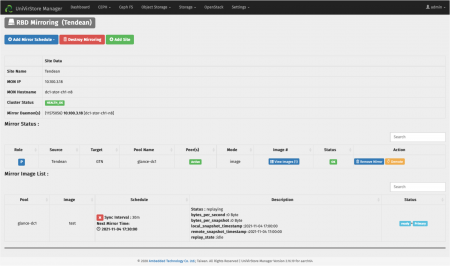 Multisite RADOS gateway

: Deploy Active -Active object storage service. Replicate data asynchronously between multiple ceph clusters.

RBD Mirroring

: Deploy rbd-mirror service to bidirectionally backup RBD images to another Ceph cluster. Managing peerings, snapshot schedules, promotions, and demotion operations.
Ceph users: Configure CephX key and user capability.
Manage the UVS manager users.
Notifications: Configure alert notification schedule and email.
Audit Log: record and view users' operations on the UVS manager .
Log management: Review, collect and download logs.
Monitoring: Users can manage the Prometheus matrix and exporters.
The UVS software updater allows users to update the software packages without disrupting the storage services. The possible packages may include user interfaces, Ceph, Linux kernel, and Linux root file system.
The UVS manager is not just a user interface software. The UVS manager also includes the knowledge Ambedded accumulated from supporting, tuning, and testing Ceph for years. Furthermore, Ambedded's knowledge is embedded in the UVS manager through automation.
Applications
OpenStack backend storage
Kubernetes cluster backend storage
VMWare / Windows Hyper-V virtualization
Enterprise storage
S3 / Swift object storage.
IP Camera/ CCTV Surveillance, Video Management System (VMS)
Scale-out NAS.
Video

Deploy your Ceph Cluster with UVS manager

Mars 400 Ceph Storage with UVS manager

Download
Ceph Storage Appliance
Mars 400 Ceph storage appliance HW & SW datasheet.

ดาวน์โหลด
Ceph Management Web User Interface (UVS Manager) | Ambedded
Located in Taiwan since 2013, Ambedded Technology Co., LTD. is a Ceph Management Web User Interface (UVS Manager) | software-defined storage company that offers ARM based software defined storage appliances with 60% CapEX saving, 70% less power consumption and 100% scale out advantages.
For Software-defined storage designing and manufacturing, Ambedded team has broad experience to help customers to adopt the ceph solution into versatile industries, such as Telecom, medical, military, edge datacenter and HA required enterprise storage.
Ambedded has been offering customers Ceph storage solutions since 2013, both advanced technology and 20 years of experience, Ambedded ensures each customer's demands are met.