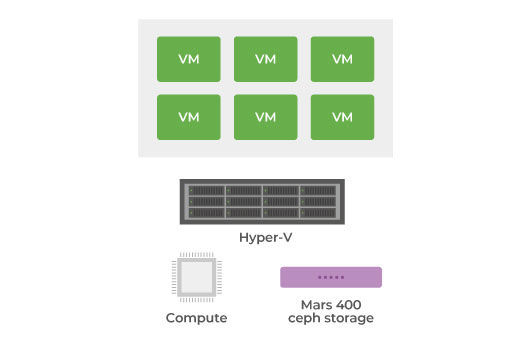 Gunakan Ceph sebagai Penyimpanan iSCSI dengan Hyper-V
Pelanggan yang belum siap untuk pindah ke infrastruktur berbasis Linux juga dapat menikmati manfaat penyimpanan yang ditentukan perangkat lunak Ceph yang didukung oleh alat Mars 400 Ceph.
Pengguna yang menggunakan VMware atau Microsoft Hyper-V untuk lingkungan TI mereka dapat menggunakan penyimpanan Ceph melalui antarmuka iSCSI.
---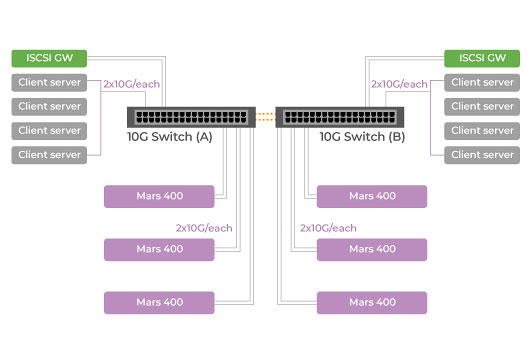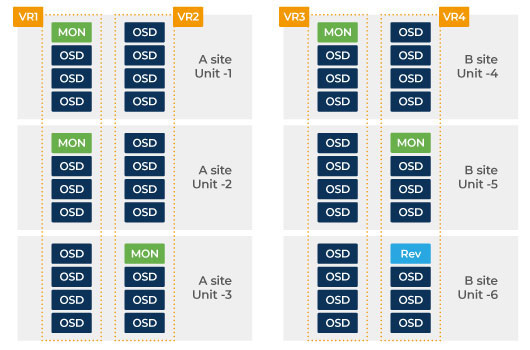 Instansi pemerintah menggunakan Ambedded Ceph Storage Appliances karena kumpulan penyimpanan backend Microsoft Hyper-V adalah contoh penggunaan Ceph dengan ISCSi.
 
Pelanggan menggunakan Microsoft Hyper-V sebagai Hypervisor mereka. Penyimpanan SAN adalah penyimpanan mereka untuk Hyper-V.
Data mereka berkembang biak di luar dugaan. Pelanggan ingin sekali menemukan solusi penyimpanan yang dapat memberikan ketersediaan tinggi, skalabel, dan tangguh dengan anggaran terbatas. Solusinya harus beradaptasi dengan mulus dengan perubahan kapasitas & persyaratan kinerjanya.
 
Dalam hal ini, Ambedded membantu pelanggan untuk menyebarkan cluster ceph dengan enam Peralatan Mars. Ada tiga unit yang dipasang di setiap situs.
● Pelanggan memiliki dua pusat data yang terletak di dua kota.
● Ada jaringan ethernet 10 Gbps di antara pusat data.
● Kedua pusat data memiliki host Hyper-V untuk menyediakan layanan mesin virtual.
● Kami memasang satu Gateway ISCSi di setiap situs.
● Tiga peralatan ditempatkan di setiap lokasi sebagai kluster Ceph tunggal. Peta CRUSH dari enam peralatan ini dikonfigurasi sebagai empat rak virtual. Setiap situs memiliki dua rak virtual.
● Domain kegagalan aturan CRUSH ditetapkan sebagai rak virtual. Metode perlindungan data adalah replika 3 untuk memastikan bahwa satu atau dua ulangan disimpan di salah satu pusat data.
● Jika salah satu dari dua situs benar-benar mogok, tidak ada risiko kehilangan data.
 
Dengan keunggulan arsitektur server mikro berbasis Ambedded Arm, pelanggan ini mencapai tujuan menggunakan penyimpanan yang ditentukan perangkat lunak dengan ketersediaan tinggi, sepenuhnya redundan, dan dapat diskalakan sesuai anggaran pelanggan.
Related Products

Mars 400PRO

UniVirStor is a ceph based software defined storage appliance. Ambedded Ceph storage appliance integrates the tuned Ceph software, Web UI, and Arm microserver. You...

rincian

Related Technology

Ceph object storage achieves data availability through replication and advanced erasure coding whereby data is combined with parity information and then...